Disney-Pixar have done it again. Since they began to focus on more culturally-specific films such as Norwegian and Scandinavian culture in "Frozen", Scottish folklore in "Brave", and Samoan legends in "Moana", they have hit the ground running telling stories from other lands that can appeal to a universal audience.
"Coco" is the story of a Mexican boy named Miguel Rivera who comes from a long line of shoe makers. Ever since his great-great-grandfather ran off to be a musician, the women in his family have taken up the slack and provided for their children. But now, several generations later, Miguel doesn't want to make shoes. Miguel secretly loves music and wants to be a musician, just like his hero Ernesto de la Cruz, a popular film/singing star ala Elvis Presley. However he knows his grandmother would never allow it as her grandmother forbade all music from their lives.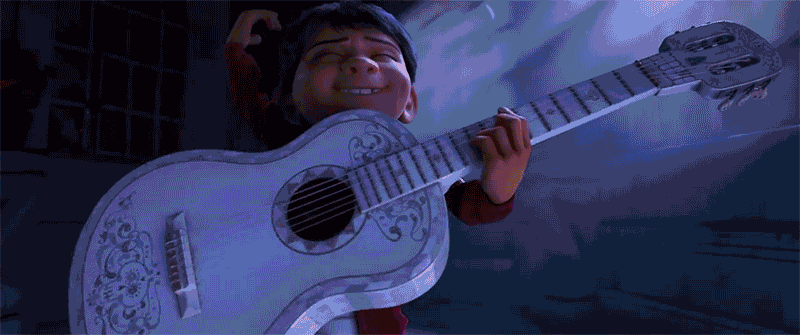 Shortly before the annual celebration of Dia de Los Muertos (the Day of the Dead), Miguel learns of a talent competition in the plaza. After accidentally breaking the photo of his great-great grandparents on the family's ofrenda (an alter in their home with photos of all their late family members with flowers, candles and offerings of their favorite things from life), he removed the photo to reveal his great-great grandfather (who's face was ripped off the photo long ago) is holding the guitar belonging to de la Cruz! Wait – could Miguel be the long-lost grandson of the great Ernesto de la Cruz?!
Inspired by this, Miguel breaks into de la Cruz's mausoleum in the cemetery amidst all the Day of the Dead festivities. As soon as he strikes a chord on the guitar, something happens and he's no longer visible to the living. But also suddenly he can see the dead! The cemetery is full of living skeletons of friends and family long since past, returning to Earth to see their families and collect the gifts left for them on their respective ofrendas. But now, Miguel is trapped! Thankfully, he finds several members of his late-extended family who rush him back to the Land of the Dead to find a way to return him to the Land of the Living.
While going through customs in the Land of the Dead, we learn how each person is able to return on Dia de Los Muertos: they have to have a picture on someone's ofrenda which means they are still remembered. We see many colorful characters passing through facial recognition scans, but one in particular is having a hard time, Hector. He tries to make a run for it, but is unable to pass over the Aztec marigold petal bridge into the living world. He's disregarded as a loser-nobody that has no one to remember him on the other side.
Miguel and his family learn if one of them gives their blessing for him to return to the Land of the Living while holding a flower petal, he can return immediately. However, his great-great grandmother will only do so on the condition that he gives up music all together. Refusing, and still believing de la Cruz to be his great-great grandfather, Miguel runs away in search of him. He later runs into Hector once more and convinces him to help. Wanted only to have Miguel return with his photo so he can visit his daughter, he agrees. Their adventures ensue in beautiful and magnificent world full of colorful characters, twists and turns, and gorgeous music.
The film premiered in Mexico the weekend before Dia de los Muertos and became the highest grossing film EVER in the country. At the time of this writing was nearly $400 million worldwide. It's already been nominated for a Golden Globe, received a Critic's Choice Award, and was chosen by the National Board of Review for best animated film of the year.
I LOVED this movie. Loved loved loved. I knew almost nothing about Dia de Los Muertos, other than culturally it was currently en vogue in the US (but I had no idea why). I saw the colorful skulls and décor everywhere, well before and after the Halloween season. The movie is stunningly beautiful. There's a wonderful "making of" short before the film, describing a key sequence and how its composed of over 10,000 different shots and elements all drawn and constructed by hand digitally. That very shot is now my desktop wallpaper. (Yeah, I'm that guy). It's a heartwarming story about family and remembering who you are, where you came from, and what you can be. It's heartbreaking to learn what happens when no one remembers you anymore and the devastating power of holding a grudge, even into death. Voiced by a stellar cast with an excellent screenplay, memorable songs, and just so much delicious Mexican culture, it will leave you wanting more and more from this world. And I haven't even told you about the animal sidekicks yet!
This film has something for everyone in the family. An absolute delight to watch and a must-see this holiday season. I can't wait to see it again!
Rating: 4 out of 5 Snack Packs
Lincoln L. Hayes is an actor and filmmaker in Vermont. You can read more of his reviews at AndNowOurFeaturePresentation.WordPres.com.