Initially I had no desire to see "Paddington" in 2014 for any reason other than to review it for this series. Having only a passing knowledge of the children's book "Paddington Bear", I assumed it was purely for kids and I wouldn't have any interest. But then it did amazingly well at the box office. And people were talking about it. And I said to myself, "Really…? Maybe I should see it then." Then, four years later, "Paddington 2" hits theaters and even more people are talking about it, namely popular comedians from one of my favorite podcasts, "Never Not Funny with Jimmy Pardo". And I tend to take their reviews to heart. So, the other night when the wife wasn't feeling well, we snuggled up in bed and watched the first "Paddington" and I'm happy to say it is delightful!
We begin with an unknown explorer's voice over and old film reel. He's exploring darkest Peru and comes upon a previously unknown species of bear. As he's about to take aim and claim his specimen prize, another bear playfully takes his gun away and removes a scorpion from his shirt. He learns the bears are incredibly intelligent, can learn English, and have a perhaps more than slight affinity for marmalade. When wishing them fair well, he tells them they will always be welcome should they ever come to London.
Years later, his bear pals Lucy and Pastuzo now live with their nephew (voiced by Ben Whishaw, "Skyfall", "The Lobster"), happily spending their days together and patiently waiting for Marmalade Day, when the oranges are rip. Tragedy strikes when an earthquake rocks the forest, forcing Lucy and her nephew underground into their shelter. Pastuzo isn't as lucky. Lucy decides to send her nephew to London stowed aboard a cargo ship while she will move into the Home for Retired Bears. With only Pastuzo's red hat and a suitcase full of marmalade (oh, and an emergency marmalade sandwich in his hat, just in case), the small bear makes his voyage across the sea to London and directly to Paddington Station where he does his best to find someone who will give him a home.
He's met by the Brown family who take him in "only for the night", as Mr. Brown (Hugh Bonneville, "Downton Abbey") insists. However Mrs. Brown (Sally Hawkins, "The Shape of Water") says he can stay as long as he needs and also names him Paddington, after the station where they met. This scene also features the first laugh-out-loud joke of the movie, "You want to name him ketchup?!"
Paddington's goal is to find the explorer who first found his aunt and uncle, so with the Brown's help, he sets out to find him. Mr. Brown takes him to the Geographers' Guild to hopefully find the name of the explorer and, when faced with a stiff refusal from the receptionist, Mr. Brown disguises himself as a cleaning woman (ala Mrs. Doubtfire, and just as funny) and they sneak in. They learn the explorer's name was Montgomery Clyde and Paddington sets out to find him.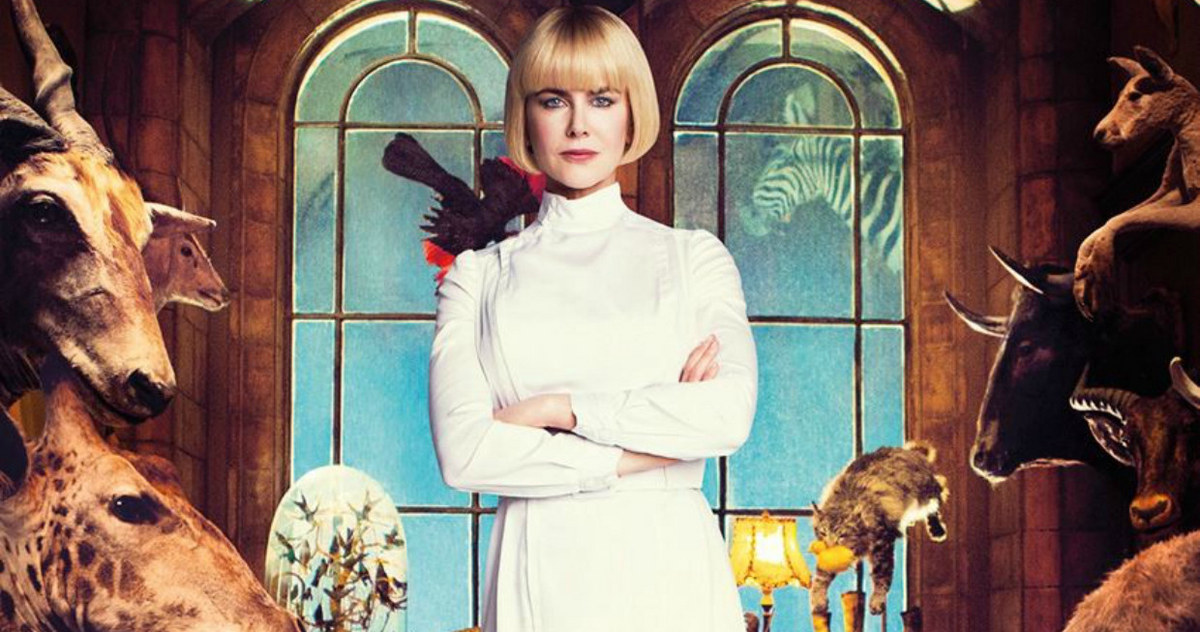 Meanwhile, maniacal taxidermist Millicent Clyde (Nicole Kidman) is a collector of rare and exotic animals for the Natural History Museum and she catches wind of Paddington's arrival in London. She breaks into the Browns' home when they aren't home with the help of their nosey neighbor Mr. Curry (Peter Capaldi, "Doctor Who") and tries to kidnap him. After a fire is started in their kitchen, Mr. Brown insists Paddington must find a new home as soon as possible.
Hilarity and antics ensue. A powerhouse of British talent and wall-to-wall laughs for kids and adults, I was shocked how much I enjoyed this movie! The previews didn't really do it justice for me as they made it seem like a "paycheck" movie for the adult actors and silly laughs for the kid viewers. I was pleasantly surprised! Also, seeing Hugh Bonneville in a comedic role was a real treat as I've only ever really seen him on "Downton Abbey" and "Notting Hill" which is probably the only comedic turn I've seen of his career. Hawkins is adorable as always, and smaller roles from the likes of Jim Broadbent ("Moulin Rouge", "Harry Potter and the Half Blood Prince") and Capaldi keep things interesting and keep the story moving. And at only 95 minutes, it's the perfect length for a fun family movie. Highly recommend!
Rating: 4 out of 5 Snack Packs
Lincoln L. Hayes is an actor and filmmaker living in Vermont. The latest season of his web series "Boyfriend Training" is nearly finished and you can find the first two seasons on his website: http://www.lincolnlhayes.com