"Wreck It Ralph" is one of my favorite Disney movies of the last decade. As a lover of video games (albeit a novice and terrible player of them), it was an absolute delight and had such a strong message of friendship and acceptance that still makes me cry every time I watch it. I even dressed as Wreck It Ralph for Halloween a few years back. So when they announced a sequel was in the works, I was thrilled! And I am happy to report it is as good, if not better, than the original!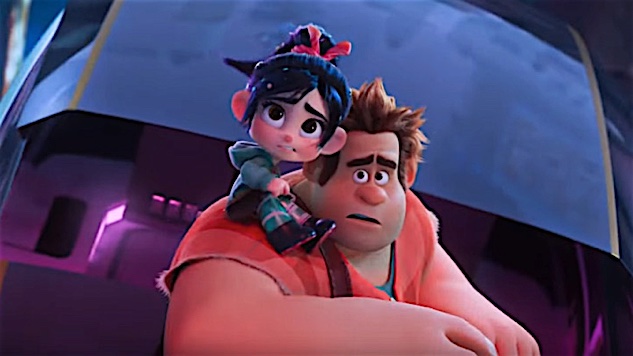 Six years after the first film, Ralph (voiced by John C. Riley) and Vanellope (Sarah Silverman) have settled into a routine: work in their games all day in the arcade, then hang out together until the sun comes up and they have to go back to work. Ralph loves this as he spent nearly three decades alone and friendless as the bad guy of his game "Fix-It Felix Jr.". Vanellope, however, wants more out of life. Her game is too predictable, the races are too easy; she's bored doing the same thing every day and night. Then, when tragedy strikes and her game is broken, she and Ralph decide to venture into the Internet to find the replacement part the game needs to work properly again.
What follows is an exciting and delightful journey into the World Wide Web that functions both as a tutorial of how the Internet works but also as a cautionary tale as to the dangers therein. And it works both for kids and adults: kids, obviously, knowing more as they've grown up with it, but for the adults, it explains a lot of the sites and lingo they may not understand in a fun, silly way that neither panders nor speaks over anyone. For example, they explain Twitter as a giant tree full of birds. One of the birds tweets, and the other birds around it echo it, or retweet it. Cute, right? But it also shows the darker side of the web too, such as the comment section of a YouTube-like site. Never read the comment section. But also, maybe let's talk about why people feel the need to be so nasty in the comments…? I digress.
Ralph and Vanellope have to find a way to make money in the Internet and get sucked into a "get rich quick" scheme that takes them into a dangerous racing game called "Slaughter Race" where they meet Shank (Gal Gadot) who shows Venellope how much fun she could be having outside of her game. Ralph, of course, is terrified and just wants to go home. But he also knows he needs to help his friend, so he does whatever he can to raise the money they need for the game part.
It's a beautiful lesson about friends growing up and growing apart, and how it's just something that happens. It's speaks to children, teens, 20-somethings, even us 30-somethings who were crying all the way through it. It's funny, exciting, and full of heart. And if you had told me there'd be a perfect King Kong reference in this movie, I'd have said you were crazy but you'd have been right!
Also featuring many actors from the original cast such as Jack McBrayer (Fix It Felix), Jane Lynch (Calhoun), and Ed O'Neil (Mr. Litwak), this sequel welcomes newcomers such as Bill Hader ("SNL", HBO's "Barry"), Taraji P. Henson ("Empire"), and many more. And we got to see a Saturday matinee full of kids so believe me, jokes about butts still kill with that audience.
Take the kids or see it on your own; "Ralph Breaks the Internet" is a great time at the movies!
Rating: 5 out of 5 Snack Packs
Lincoln L. Hayes is an actor and filmmaker living in NYC. He's also on the Internet (probably too much) so find him at http://www.lincolnlhayes.com.