First published in the Holyoke Enterprise March 3, 2016.
I've said it before, I'll say it again: I'm opposed to reboots and remakes. That being said, anyone could read back a few of these reviews and see that more often than not, I end up enjoying said reboots, remakes, and sequels despite my purist intentions. I guess I'm a hypocrite…
When it was announced they were rebooting "Full House", I rolled my eyes harder than Liz Lemon on 30 Rock. More and more announcements about casting and who would be back and who wouldn't, the eyes kept-a-rolling. Finally, the show premiered on February 26 and the Internet went crazy. Critics hated it but fans loved it. My wife really wanted to watch so I obliged. And guess what?
It's delightful!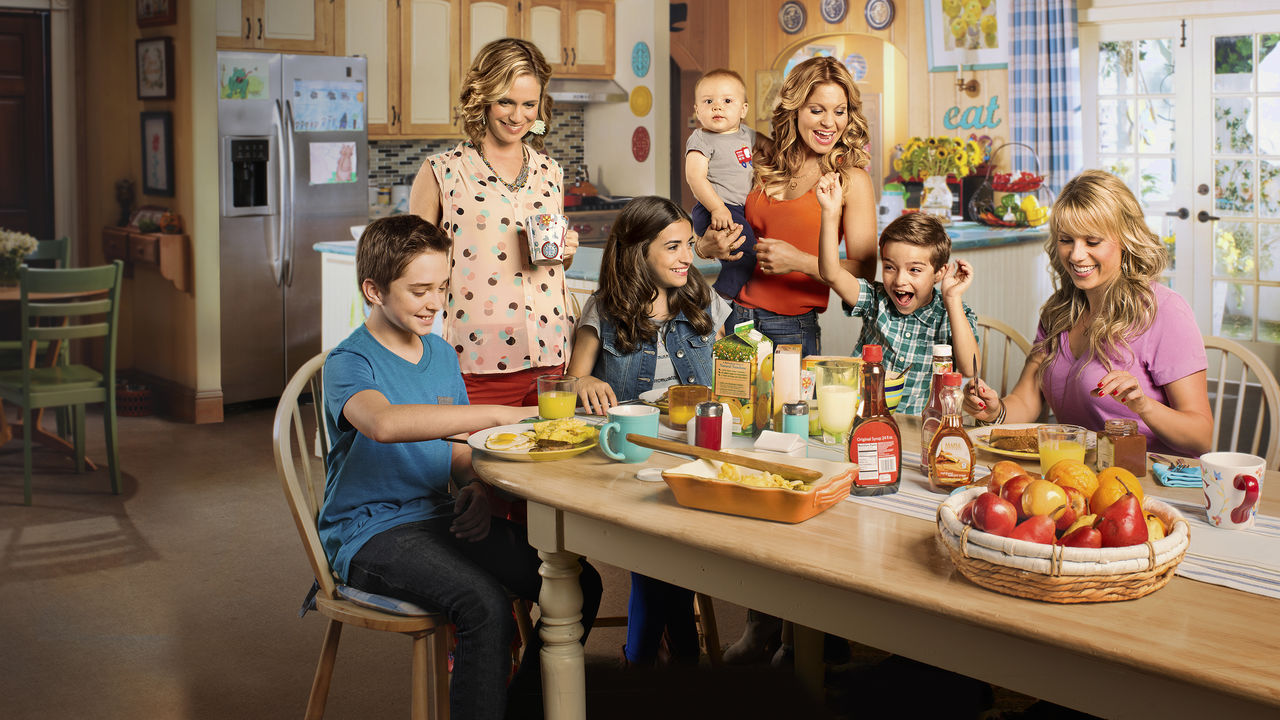 About 20 years after the original series, we pick back up with DJ Tanner-Fuller (Candance Cameron Bure), widow and mother of three, who's family has all come together to help her through the transition into single-parenthood after the death of her husband. Stephanie (Jodie Sweetin) is a rather famous DJ in London – cleverly using the stage name DJ Tanner (get it?) – and comes home to San Francisco along with DJ's childhood best friend Kimmy Gibbler (Andrea Barber) who now runs a party planning business. In the first episode, Danny (Bob Saget), Joey (Dave Coulier), Uncle Jesse (John Stamos), and his wife Rebecca (Lori Loughlin) are all home as well to celebrate a go-away party for Danny and Rebecca who are moving their talk show to Los Angeles, and Jesse who is the new composer for General Hospital. After seeing how hard of a time DJ is having, trying to do everything herself for her three boys, Danny, Joey and Jesse agree to move back in and help. Instead, Stephanie and Kimmy step up and say it's their turn to do what Joey and Jesse did for Danny in the original series and agree to move in to help with the Fuller household.
Chock-full of cheesy nostalgia for the original series and the 80s-90s-style sitcom, Fuller House is funny and heartwarming and very skillfully blends premises from the original series into a new, fresh cast for the 2016 audience. The familiar tropes are still there, but creator Jeff Franklin did something unexpected: he was able to turn everything 180 degrees while keeping the heart of the original series intact. Instead of a single dad and his best friend and brother-in-law raising three girls, now it's a single mom and her best friend and sister raising three boys. Stephanie has assumed the Uncle Jesse role of being "too cool" for this parenting thing and Kimmy is the goofy "aunt", falling right back into her old antics flawlessly. Absent from the show is Michelle (played by the Olson Twins) but she's explained to be "running her fashion empire in New York". Hopefully she'll/they'll make an appearance in future seasons, though neither of them are acting any longer. So who knows?
Also the casting of the boys is perfect! Jackson (Michael Campion) plays the put-upon oldest child with the same angst but best intentions that Cameron Bure created for DJ in the original series. Max (Elias Harger and also my favorite character) is a silly, fun-loving middle child who learned everything he loves about cleaning from his Grandpa Danny and frequently wears suits because he "likes to look good", and once again, they've cast twin babies (Dashiell and Fox Messitt) to play Tommy and he's just the cutest.
The relationships between the adult Tanners and children Fullers still lands as well: DJ and Jackson bond over the woes of being the oldest while Stephanie and Max connect about being the stuck middle child. Also throw in Kimmy's daughter Ramona (Soni Nicole Bringas) who has been uprooted from her life to come live with BOYS in a new city without all her friends. Will there be a future romance between her and Jackson? Probably, because sitcom.
Pepper in a love triangle for DJ with her old high school boyfriend Steve (Scott Weinger, who was the voice of Aladdin, don't ya know) and her new co-worker Matt (John Brotherton) and you've got a great recipe for some good ol' fashioned sitcom gold.
Is the reboot groundbreaking? No. Are the jokes still corny with a side of cheese? You bet. But is it fun to watch for the whole family? Absolutely.
Rating: 5 out of 5 Snack Packs
Lincoln L. Hayes is a former writer and columnist of the Holyoke Enterprise. He's currently making another movie, so you should follow the progress on his website: http://www.lincolnlhayes.com